动态工具也支持下载pdf啦!
9月14日服务器升级暂停访问通知
动态桑基图工具上线!!
动态工具也支持下载pdf啦!
1. Function: An analysis tool to fill in missing values in the data table.
2. Scope of application: In the process of data analysis, some software does not support missing values in input files. This tool can help users fill in missing values. For example, metabolome data requires filling of missing values.
3. Input: (The input form file supports txt (tab delimited) text files, csv (comma delimited) text files, and the exclusive xlsx format for Excel. It also supports the xls (Excel 97-2003) format of the old version of Excel. )
Data table with missing values

Note: spaces are missing values
4. Parameters:
Whether to include row or column names: row name / column name / both / neither
Missing value forms: 8 common types, namely NA / NaN / null / 0 /-/ - / --- / empty value. In addition, you can also manually enter the above 8 missing value forms that are not available, and select custom output.
Missing value filling methods: a total of 9 methods, namely the global minimum, the global minimum is divided by 2, the global minimum is divided by 10, the minimum value of the column, the mean value of the column, the median of the column, and the row The minimum value of, the mean of the row, and the median of the row.
Remove rows/columns with a high proportion of missing values: select No/row/column. For example: the row or column direction is a sample, and the proportion of missing values ​​in a row or column reaches a certain threshold. This sample is considered to be of no biological significance and can be deleted. At this time, you can choose to delete in the row or column direction, and Enter the threshold parameter (integer percentage).
Missing value threshold (%): The default is 50, but the threshold can also be customized. Output 50 means deleting rows or columns whose missing values ​​in the row or column direction account for more than 50% of the entire row or column. As for deleting rows or columns, the above parameters have been selected.
5. Output:
Output in txt/xls format.
Sample data:
Parameter settings: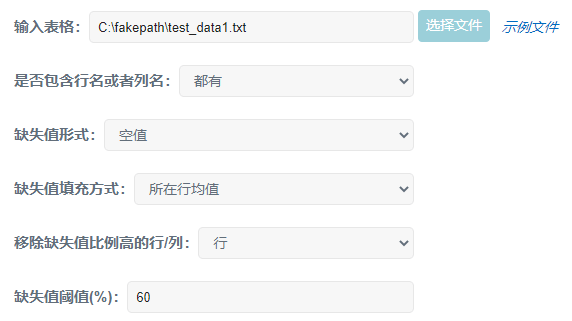 Output: